Chicken is a common protein source for people trying to avoid fattier options. Not only will marinating your chicken help increase the seasoning of the dish, you can create marinades that include ingredients that can boost the overall health of the recipe.
First, let's follow the videos for some simple and delicious chicken marinade recipes:
1. Simple chicken marinade recipe
2. Quick marinade which will make the chicken moist and juicy
You can find more complicated and refreshing chicken marinade recipes below:
Recipes for Chicken Marinade
1. Fajita Marinade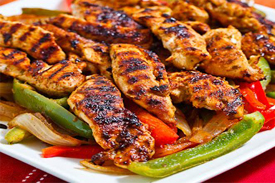 This recipe adds a bit of spiciness to your chicken without being too difficult to put together. The citrus helps to break down the meat so it will be tender. Just be sure to avoid leaving the chicken in the marinade for too long because then the tissue will break down too much.
Ingredients
One pound chicken tenders
Four cloves of minced garlic
A fourth cup lime juice
A cup sliced yellow peppers
A cup sliced red peppers
A cup sliced green peppers
Three fourths of a cup sliced onion
A fourth teaspoon salt
A half teaspoon cumin a fourth teaspoon ground red pepper
Eight warmed tortillas
Eight teaspoons reduced fat sour cream
Instructions
Mix the lime juice and half the garlic.
Place the chicken in an 11x7 glass baking dish and pour the mixture on top of the chicken, tossing the tenders to make sure they are evenly coated.
Cover the glass dish and let it sit in the refrigerator for at least an hour, stirring the ingredients occasionally.
Spray a skillet with cooking spray and heat it over medium heat. Add the chicken to the pan, cooking for 5-7 minutes or until the chicken is browned and no longer pink in the center. Remove the chicken from the pan, drain any excess liquid and add the onion, peppers and remaining garlic, cooking until they are tender.
Sprinkle the finished mixture with the cumin, red pepper and salt.
Return the chicken to the pan and reheat. Serve the finished product with tortillas and sour cream.
2. Barbeque Chicken Marinade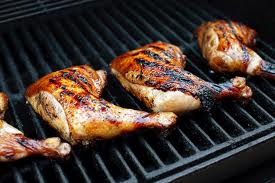 Barbecue chicken is an American classic. The sherry and vermouth in this recipe adds a lot of extra flavor. Just be careful not to apply too much of the sauce while cooking as the vegetable oil in the mixture is flammable.
Ingredients
One tablespoon of dry vermouth
A cup of sherry
A tablespoon Dijon mustard
A tablespoon Worcestershire sauce
A half cup extra virgin olive oil
A teaspoon soy sauce
One minced medium onion
Six minced garlic cloves
A tablespoon mixed herbs
A half teaspoon coarsely ground pepper.
Instructions
Mix all the ingredients thoroughly.
Marinade the chicken in the finished mixture for around 3 hours before you plan to cook.
3. Teriyaki Marinade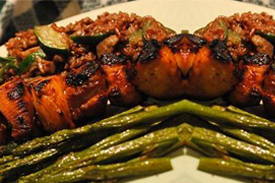 Teriyaki flavors go well with vegetables or meat. The key to this flavor profile is the mix of sweetness with tangy soy sauce, giving the dish an Asian flare.
Ingredients
A cup of soy sauce
A cup of sugar
A cup of orange juice and garlic powder to taste
Instructions
Combine all the ingredients for your marinade and soak your chicken in the mixture for around an hour.
Do not allow the chicken to sit in the mixture for too long as the citric acid in the orange juice will break down the flesh.
Cook as desired, and then preferably have rice as a side dish.
4. Peanut-Ginger Marinade
This recipe has distinct Asian notes that combine salty, sweet and tangy notes. You can substitute less expensive versions of these ingredients, but you'll get a better flavor if you opt for the fresh ones, particularly if you make a point of using fresh squeezed orange juice.
Ingredients
A half cup orange juice
A half cup smooth peanut butter
A fourth cup soy sauce,
Two teaspoons orange zest
Two tablespoons dark brown sugar
Four minced garlic cloves
A teaspoon red pepper flakes
Two teaspoons ginger
Instructions
Mix all of the ingredients together to create a smooth texture.
Place your chicken in a re-sealable bag and pour the marinade on top.
Refrigerate your chicken for 30 minutes to 8 hours as necessary and then cook as desired.
5. Lemonade Chicken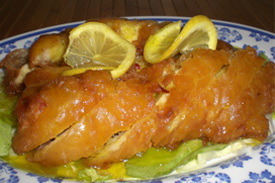 Lemon can brighten up any dish. This version allows you to put together a tasty dish with very few ingredients.
Ingredients
Three pounds of skinless chicken,
A can of frozen lemonade concentrate that has been thawed
Six tablespoons water
Two tablespoons white wine Worcestershire sauce
Two crushed cloves of garlic
Two teaspoons chopped rosemary or a teaspoon of dry rosemary
Instructions
Combine two tablespoons of the water, the lemonade, vinegar, rosemary, Worcestershire and garlic in a re-sealable bag.
Place the chicken in the bag, seal and then turn it to coat all the pieces.
Leave the chicken in the refrigerator for at least an hour, turning the bag occasionally.
Bake your chicken for 50-55 minutes in a 350 degree F oven or until the juices run clear and the chicken is no longer pink inside.
Bring the leftover marinade to a boil over medium-high heat for 10 minutes, stirring occasionally. Combine the remaining 4 tablespoons water with the cornstarch in a small bowl, stirring until it is smooth.
Add this mixture to the marinade and cook until you have a thickened sauce. Transfer your chicken to a plate and serve with this sauce on the side.