Push-ups are one of the best exercises that help you build strength. One of the best things about pushups is that you can do them anywhere at any time. You don't need any equipment and a lot of space, indoors and outdoors. There's only one recurring question that anyone who enjoys doing pushups will ask and that is: how many do I have to do?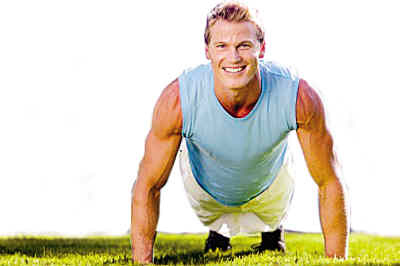 Basic Guideline Chart
The number one question anyone starting to do pushups is likely to ask and the short answer is that there isn't any specific number of how many you should do every day. It all depends on various factors, like your strength level, your endurance and well as goals for yourself. However, below is a chart with a basic guideline to set you on your task in one full minute:
Male

Age

Average

Good

Excellent

20-29

35-44

45-54

>54

30-39

24-34

35-44

>44

40-49

20-29

30-39

>39

50-59

15-24

25-34

>34

Female

Age

Average

Good

Excellent

20-29

17-33

34-48

>48

30-39

12-24

25-39

>39

40-49

8-19

20-34

>34

50-59

6-14

15-29

>29
Define a Personal Program
Rather than spend time worrying about how many you have to do, and trying to reach a number you know someone else was able to do, you have to focus on your abilities and goals.
1. Start with Several Sets
As a start, you can do 3-5 sets every day. Take a 1-2 minute break between each set, or you may not be able to finish, or worse, wake up the next day feeling exhausted. If you do feel sore skip pushups for that day, or you'll strain your muscles even worse.
2. Set a Proper Goal
If you started with three sets, set a goal for yourself to achieve—just make sure it's realistic. For example, in two-three weeks, you want to be able to do five sets (that's 50 in total). And once you reach that goal, set another one. Don't pay attention to what anyone else can do and don't push yourself too hard. Take your time and fall into the sets comfortably at your pace according to your abilities.
3. Don't Overly Practice
Doing as many pushups as you can before collapsing into a heap on the ground may encourage muscle growth and also can be dangerous on the long-run. Worse still, if you feel yourself no longer enjoying the pushups you're more likely to quit doing them regularly. Don't push yourself so hard every day.
4. Try Variations
The standard push-up is a great exercise, but you want to have some variations so you can work a larger area of your body and don't just overwork one set of muscles. There are different alleviations which can vary your push-up routines such as putting your foot on a bench and clapping your hands before lowering yourself.
Watch this video to learn 32 pushup variations.
Tips and Warnings
Look Ahead During Workout
Looking ahead helps make sure you keep your head raised up and keep pressure off your neck to avoid injury.
Flat Back and Suck in Stomach
Although it's probably easier said than done, be sure to keep you back as flat as you can and suck your tummy in so your muscles feel tight during the actual push-up. This will actually help prevent you from getting any muscle strains or injuries. One of the most common mistakes people make when doing pushups is arching their backs or allowing their backsides to go higher than the rest of their bodies. This puts them at greater risk of injury.
Avoid Holding the Breath
A lot of people make the mistake of holding their breaths when doing pushups which is very unhealthy. When you lower your body to the ground, make sure you inhale through your nose then exhale through your mouth when you push back up to starting position.
Consult with Doctor
If you have any type of wrist or arm injury, be sure to ask your doctor's permission for clearance before you start doing any pushups. Otherwise, you may cause yourself a lot of pain and even permanent or long-lasting damage.