Eggs are all naturally loaded with a high quality of protein, which includes fifteen percent of the daily requirements, minerals and thirteen essential vitamins including pantothenic acid, iodine, riboflavin, phosphorus, vitamin B12 and folic acid. All of these benefits for just eighty calories at the maximum seem like a good choice. Eggs benefit the body in many ways. Egg nutrition helps with muscle strength, eye health, weight management, brain function and a healthy pregnancy. They contain choline, which is particularly helpful in brain function and also has many benefits for a healthy pregnancy. The protein contained in eggs provides steady and sustained energy that can last the entire daylong.
Scrambled eggs can be a part of a satisfying, healthy, protein rich meal, which the entire family can enjoy. The scrambled eggs calories are low, and the dish can be prepared in different ways and can include a number of different additions. Any vegetables, meats or spices added to the scrambled eggs, depending on the recipe, can easily be monitored and accounted for as far as calorie intake are concerned. All of the eight amino acids that are required to maintain good health are present in scrambled eggs. As the body is unable to produce these on their own, consuming scrambled eggs is a great way to introduce these into your diet.
Scrambled Eggs Calories
A scrambled egg uncooked contains seventy-five to eighty calories, but in order to cook the egg, you need to use some sort of cooking fat. There are different types of cooking styles for scrambled eggs and each contains a different calorie count. Butter, for instance has a much higher calorie count than cooking spray, margarine or olive oil. It is important to keep in mind that the more fat you use the higher the calorie count will be.
Low Calorie Scrambled Eggs Recipes
There are a variety of recipes with low scramebled eggs calories, added with fresh vegatables and a number of seasonings to make them more delicious in taste, more nutritious to eat and still keep a low caloric value. The following lists some low calorie and delicious scrabbled egg recipes that you can enjoy along with your family.
1. Low-fat Simple Scrambled Eggs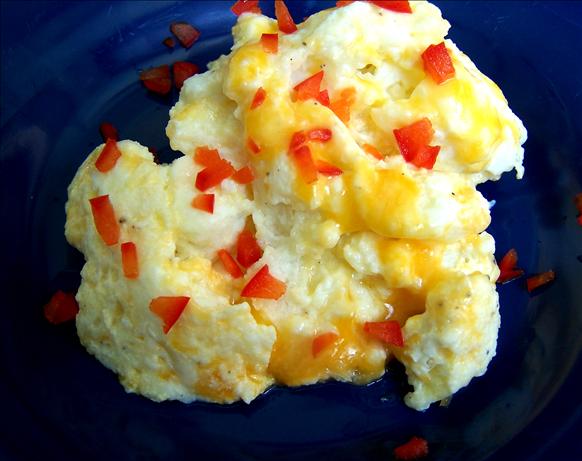 Servings: 2
Ingredients:
½ tablespoon of finely diced red bell pepper
½ cup of grated low-fat cheddar cheese
4 large whisked egg whites
salt and pepper to taste
Instructions:
Begin by placing the egg whites into a microwave safe dish and cook for one minute.
Once this is complete, remove the dish from the microwave and stir the cheddar cheese, some pepper and a small pinch of salt into the egg whites and cook for an additionally thirty seconds.
Remove the dish from the microwave promptly and spoon the contents onto plates.
Finally top with crisp red peppers, serve and enjoy!
2. Scrambled Eggs with Smoked Salmon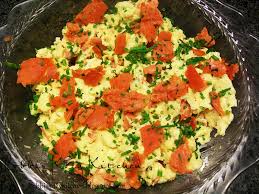 Servings: 4
Ingredients:
1 teaspoon of canola oil
4 large egg whites
4 large eggs
2 thinly sliced green onion (scallion), only use green tops
1 ounce of thinly sliced smoked salmon
freshly ground black pepper
Instructions:
In a small mixing bowl, begin by whisking the egg whites and the eggs, as well as some freshly ground black pepper for taste.
Continue to whisk these items until they are completely blended.
Add the canola oil to a non-stick skillet and heat on a medium to low setting.
Once the oil is well heated add the green onion and cook for approximately thirty seconds, until the onions "sweat" (soften), stirring occasionally.
Pour the egg and pepper mixture into the pan and cook for approximately ten seconds, until the eggs just start to set.
Stir in the smoked salmon and cook stirring lightly from time to time, for about three to five minutes until the eggs thicken into creamy soft curds.
Serve the meal immediately, and all that is left is to enjoy!
3. Veggie Scrambled Eggs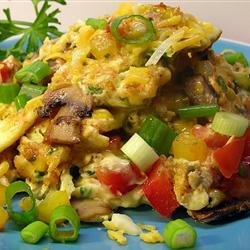 Servings: 2
Ingredients:
2 eggs
1 teaspoon of olive oil
1 teaspoon of bell pepper
1 teaspoon of chopped onion
1 teaspoon of fresh sliced mushrooms
1 teaspoon of milk
1 teaspoon of fresh chopped tomato
1 teaspoon of shredded cheddar cheese
Instructions:
In a frying pan or skillet, begin by heating the olive oil over a medium to high heat level.
Once the oil is thoroughly heated, put the peppers, onions and mushrooms into the pan.
Sauté these vegetables in the olive oil until the onions begin to "sweat", which is when they appear transparent.
Beat the eggs and the milk in a medium sized mixing bowl until they are thoroughly blended.
Once it is done add the egg mixture to the already cooking vegetables and stir so that the vegetables are distributed evenly throughout the mixture.
Stir the tomatoes into the pan and continue to cook until the eggs are just beginning to set.
Then add the cheddar cheese and allow it to cook until the eggs are fully set.
The dish should be served immediately upon completion, and be prepared to enjoy this delicious dish!
4. Cheesy Scrambled Eggs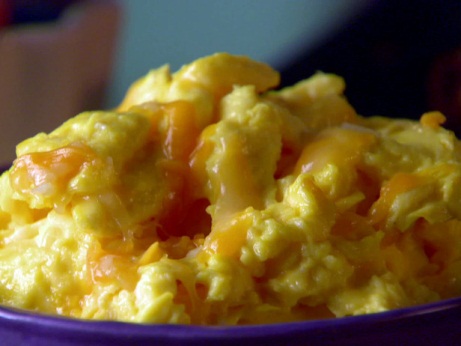 Servings: 1
Ingredients:
1 three-second spray of non-fat cooking spray
½ cup of egg substitute or 2 eggs
salt and pepper to taste
1 tablespoon of finely shredded, fat-free sharp cheddar cheese
2 slices of sugar-free whole wheat bread
1 tablespoon of fat-free margarine
Instructions:
Begin by heating, over medium to high heat a six to eight inch non-stick skillet
Once the pan is thoroughly heated, remove it and spray it evenly for approximately three seconds with the cooking spray and return it to the heat.
In a mixing bowl that has high sides, pour the egg substitute or crack the eggs into it and add a pinch of both salt and pepper to taste.
Blend the mixture well with either a fork or a whisk and pour it into the heated skillet.
Stir the eggs in the pan until they begin to start to firm.
Use a nylon spoon or egg turner/spatula by following it around the pan.
Stir in the cheese so that as it melts, the same amount of cheese is throughout.
Continue to cook, stirring the mixture slowly for approximately three to four more minutes.
When the eggs are no longer runny and they appear light and fluffy, the dish is done.
When the cooking is complete serve immediately, with toast and a small amount of margarine. Then eat and enjoy!