You may experience knee pain due to many different causes, including wear and tear or injuries during sports and other physical activities. You may also be a patient of arthritis, which could cause knee problems. Similarly, you will have bad knees if you don't pay attention to maintaining a balanced diet and have a poor lifestyle. With bad knees, it is not easy for someone to run, but you can make your condition manageable by choosing the best shoes for knee pain. The best running shoes for bad knees will keep you comfortable by providing support to your feet, ankles and knees.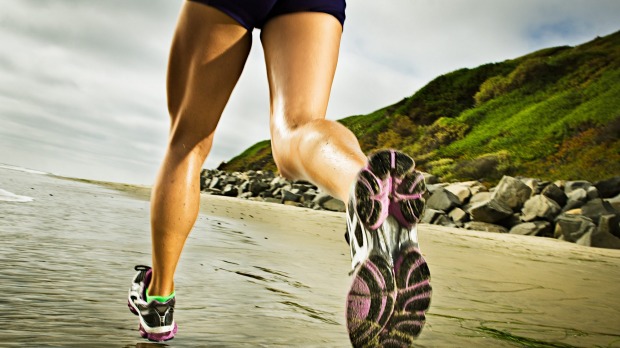 The Best Running Shoes for Bad Knees
You can find a variety of best running shoes for bad knees,but it is important to consider your running style to select the best one. The shoes that work great on treadmills may not be the best on trails. So, take your time and select the best running shoes for knee pain.
1. Shoes that benefit you when running on treadmills
Saucony Virrata 2 (Saucony.com)
Price: $90
Feature: A perfect pair of shoes for people with bad knees because it has a zero-drop but weighs 6.5 ounces only. You can log about 4 - 6 miles with utmost ease.
Brook Transcend (Brooksrunning.com)
Price: $160
Feature: It's just what doctor ordered for pronators. You will love it if you're looking for a pair of shoes with extra padding; in fact, it has 25% more foam than many other supportive shoes in the market. It also adapts to your stride for greater support and comfort.
Asics Gel-Cumulus 16 (Asicsamerica.com)
Price: $115
Feature: You may want to put your money on these shoes if you're a neutral runner but still want a little support on your race day. It comes with extra forefront and rear cushioning as well as a lightweight upper mesh that will always keep you in control of things.
2. Shoes that benefit you when running trails with dirt and bubble
TrekSta Edict GTX (Trekstausa.com)
Price: $160
Feature: At 10.6oz, it's a perfect pair of shoes for hardcore trails. This pair of shoes is perfect if you're looking for shoes to have you covered in soggy spring conditions. It uses a waterproof-breathable Gore-Tex membrane that will always keep your feet dry and blister-free. It puts little pressure on your knees while running and provides good support with its EVA midsole.
New Balance Leadville 1210 (Newbalance.com)
Price: $125
Feature: These are the best running shoes for bad knees,especially if you're a trail runner and need a bit of support. With a drop of 8mm and overall weight of 10.3oz, it will keep you comfortable without making you feel stiff. It provides you with good traction due to its dual-density Vibram outsole.
The North Face Ultra Trail (Thenorthfaceultra.com)
Price: $110
Feature: You really need to buy these running shoes if you're in love with long, dirt roads. You will be able to handle tough terrain much better while wearing these shoes that come equipped with a Vibram sole. You will love its color as well that will help you run in style.
Choose Shoes That Fit Your Feet
Wearing the best shoes for knee painwill definitely help make your condition better, but you need to take your time and consider several things when buying a new pair of running shoes. It is important to consider what type of feet you have to select the best shoes.
Pronated feet: If your feet roll inward when you run, you have pronated feet. If you roll your feet excessively, this will put a lot of pressure on your knee joint. It is therefore important to wear a pair of shoes that would reduce the degree of pronation. These types of shoes will have a hard material in the arch point to limit the rolling-in motion of your foot.
Supinated feet: If you roll your feet outward while running, this is called supination. When you're a supinator, the best pair of shoes is the one that offers more flexibility and cushioning to limit your rolling-out motion.
Neutral runners: You're a neutral runner when you don't roll your foot excessively in inward or outward direction. The best shoes in this case would be the ones that offer you more stability – they don't lay any emphasis on control the motion of your feet. You will need these shoes, especially when you run a lot over uneven terrain.
Tips for Neutral Runners to Find the Best Running Shoes for Bad Knees
In order to find the best running shoes for knee pain, you have to determine what type of a runner you are. If you're a neutral runner, it is important to pay attention to several factors when buying yourself a pair of running shoes. Keep the following point in mind when buying the best running shoes for bad knees:
Buy a pair of well-cushioned shoes. The best thing about these shoes is that they will absorb the impact of the foot after it hits the ground. It means the shock won't travel to your knees and keep your bad knees from becoming worse.
Buy shoes with flexible sole and low heel. You will find these shoes especially beneficial if you have knee arthritis. They bend easily and always keep your feet in correct position. This will put little stress on your feet and knees.
Avoid bulky shoes. It is important to opt for lightweight running shoes. You don't have to opt for bulkier shoes just to get those special stability features such as side posts or heel cups. They are not effective and sometimes make your feet rotate excessively. They may even tweak your knee, which is surely going to make things worse.
Buy a pair of running shoes that is half a size larger than what you wear or what your normal size is. This will allow your foot to move a bit, which will take pressure off your knees.
Note: You need to bear in mind that if you don't do anything about your bad knees, they will start interfering with your daily movement. You should, however, consult with your doctor if you have bad knees and want to start running. Your doctor will help identify the cause of your knee problems and recommend a treatment option. They will also help you identify the best running shoes for bad knees.