Ribs are classically cooked in a smoker, on the grill or fried. However, not everyone has the means to cook ribs this way, especially if it is the middle of winter. When you need to cook ribs indoors, a roaster can be a great option. This cooking method gives you a full, slow-cooked flavor and makes it easier to apply different sauces and flavorings without the risk of burning like you would have on the grill.
How to Cook Ribs in Roaster
1. Baking Sweet and Sour Ribs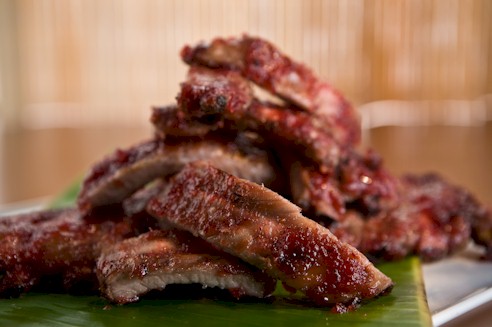 Total Time: 2 hours
Prep Time:N/A
Cook Time: 2 hours
Ingredients
2-4 pounds pork side ribs
1.5 cups flour
1.5 cups light brown sugar
1 cup ketchup
1 cup white vinegar
1/2 cup flour
4 tablespoons Worcestershire sauce
1 teaspoon chili powder
1 teaspoon salt
Directions
Preheat your oven to 350 degrees F and separate the ribs into individual pieces. Add flower to a resalable bag and shake, then add to a frying pan with the olive oil to brown.
Place your ribs in your roaster. Mix all other ingredients together and whisk until thoroughly combined. Pour the completed sauce over your ribs and cover.
Place the roaster in the oven and bake for 45 minutes. Lower the heat to 275 degrees F and roast for another hour and 15 minutes. Stir the ribs occasionally during the cooking process. Serve your ribs with rice.
2. Simmering Sweet and Sour Ribs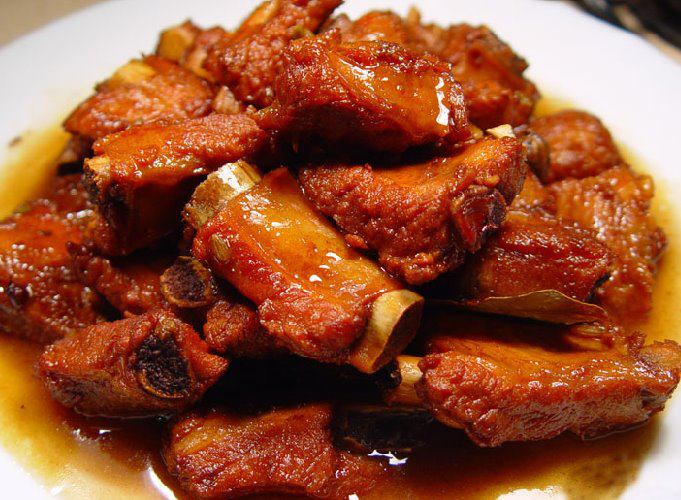 Total Time: 2.5 hours
Prep Time: 1.5 hours
Cook Time: 1 hour
Ingredients
Spare ribs
2/3 cup ketchup
A cup of water from the ribs
Half cup brown sugar
Half cup vinegar
Two tablespoons corn starch
A teaspoon dry mustard
A pinch of salt
Directions
Cut your ribs into individual pieces and place them in your roster. Cover the ribs with water and add the salt. Simmer your ribs for 1 and a half hours without the cover.
Combine the corn starch, mustard and sugar. In a separate bowl combine the ketchup, vinegar and water from the ribs. Mix this with the dry ingredients and cover the ribs with this sauce.
Simmer the ribs for an additional hour and serve.
3. Old English Prime Rib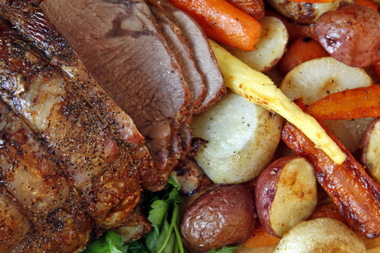 Total Time: Will vary
Prep Time: N/A
Cook Time: 12 minutes per pound
Ingredients
Standing or prime rib, plan half a pound per serving
Rock salt
A teaspoon paprika
A teaspoon MSG powder
Two tablespoons Worcestershire sauce
Salt and pepper to taste
Directions
Season your prime rib with the MSG, Worcestershire, paprika, salt and pepper, taking the time to rub these seasonings into the meat.
Cover the bottom of your roaster with a layer of rock salt and dampen the salt with water. The salt should be just moist. Place your prime rib in the standing position on top of the salt and cover the meat with rock salt, dampening the salt with water once again.
Cover your roaster and place it in a 500 degree F oven. Cook the meat approximately 12 minutes per pound then remove it from the oven.
The rock salt should have hardened around the meat during cooking. Break it away from the prime rib using a wooden mallet. Gently hit the salt to create cracks and pull the broken sections away, brushing off any remaining salt with your hand. Serve immediately.
4. The Best Oven Roasted Ribs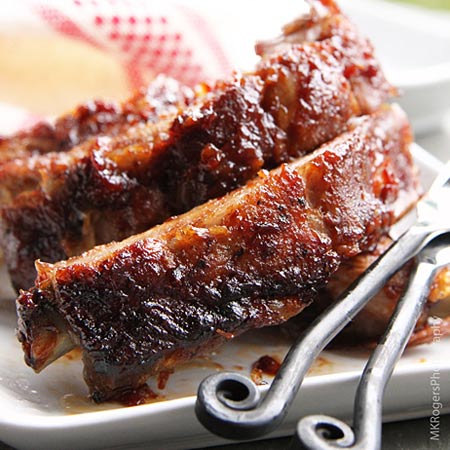 Total Time: 3 hours, 20 minutes
Prep Time: 20 minutes
Cook Time: 3 hours
Ingredients
3 racks of spareribs with the membrane removed. Alternatively, 4 racks of baby back ribs with the membranes removed
9 tablespoons Dijon or yellow mustard
6 tablespoons paprika
6 tablespoons light or dark brown sugar
3 tablespoons garlic powder
3 tablespoons black pepper
2 teaspoons liquid smoke
1.5 teaspoons salt, plus additional for seasoning.
Directions
Place your oven rack in its lowest position and remove your other oven rack. Preheat the oven to 250 degrees F.
Combine the salt, garlic powder, sugar, paprika and pepper in a bowl. In a separate bowl combine the liquid smoke and mustard.
Place your ribs on the oven rack you removed, sprinkling them with the additional salt.
Take a jelly roll pan and line with foil so the foil also covers your oven rack. Place the rack the ribs are sitting on in the upper-middle portion of your oven with the foil lined pan and rack below it.
Bake your ribs for around 2-3 hours or until they are tender. Baby back ribs are typically finished in 1.5-2 hours.
If desired, remove the jelly roll pan, pour off the grease and cover the ribs in barbeque sauce.
When they are finished cooking, place your ribs on a pan with the meat side up and baste them with the sauce. Broil the ribs until the sauce is bubbly but remove before it begins to burn.
Allow the meat to stand for 5-10 minutes before you consume.
5. Barbecued Ribs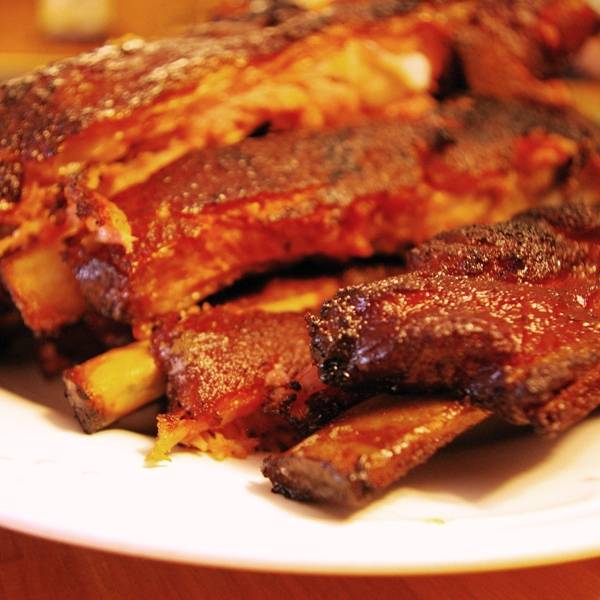 Total Time: 5 hours
Prep Time: 20-30 minutes
Cook Time: 4 hours 30 minutes
Ingredients
3 pounds baby back ribs
A cup of ketchup
A half cup water
One medium onion
A tablespoon Worcestershire sauce
A tablespoon brown sugar
A tablespoon horseradish
Salt and pepper to taste
Directions
Pour the water into your roaster and preheat your oven to 300 degrees F. Cut the ribs into individual pieces. Salt the meat and place them in the roaster.
Back your ribs for 3 hours. Meanwhile combine your horseradish, Worcestershire, ketchup, onion and brown sugar. Allow the sauce to simmer for 20-30 minutes, stirring occasionally.
Remove the ribs from the oven and drain, reserving a tablespoon of the grease. Cover the ribs in the sauce and layer them in your covered roaster. Set the oven to 275 degrees F and bake for an additional 1-1.5 hours.