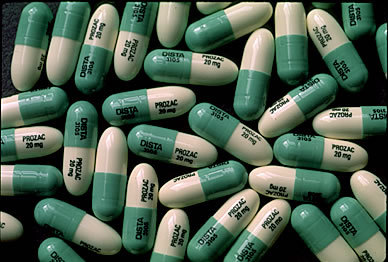 I think it's safe to say that most people have heard of Prozac, as it's probably the most popular antidepressant used today. Prozac is not only used to treat depression, but also bulimia, OCD, anxiety/panic disorders and PMDD. However, like other SSRI meds, withdrawal symptoms are common occurrences. This article will show you all withdrawal symptoms of Prozac and how you can overcome these symptoms.
How to Take Prozac
It's absolutely imperative that you take your dose of Prozac as exactly prescribed by your doctor. You should NOT take any more or less than the doctor has written for you, for the duration of the period he has recommended. Follow the instructions on your prescription to the tee and make sure your Prozac is stored at room temperature, away from moisture and heat.
Since regular meetings with your doctor will be recommended, your doctor may decide to change your dosage if it doesn't have the best results on you. Also, make sure you don't crush/chew/break the capsule, you need to swallow it whole, otherwise you could be causing too much of the drug to be released at once and that could eliminate the benefits.
Most patients begin to notice their symptoms improving in up to 4 weeks. If you don't notice any improvement after four weeks, consult your doctor but don't stop using it until the doctor tells you so.
What are the Symptoms of Prozac Withdrawal?
Please note that stopping any type of medication abruptly can cause withdrawal symptoms, and Prozac is no exception to that rule.
Physical Symptoms. Dry Mouth, Asthenia, Increased Sweating, Allergy, Chest Pains, Chills, Fall, Edema of Extremities, Fatigue, Fever, Hot Flashes, Influenza (Flu)-like Symptoms, Leg Pain, Tightness of Chest, Malaise, Pain in Limb, Syncope
Cardiovascular Symptoms. Palpitation, Hypertension, Bradycardia, Tachycardia, ECG Abnormal, Flushing
Gastrointestinal Symptoms. Abdominal Cramp/Pain, Belching, Bloating, Constipation, Dyspepsia, Diarrhea, Flatulence, Gagging, Gastritis, Gastrointestinal Hemorrhage, Gastroenteritis, Heartburn, Hemorrhoids, Increased Stool Frequency, Indigestion, Nausea, Gastro Esophageal Reflux, Swallowing Difficulty, Polyposis Gastric, Toothache, Vomiting, Lymphadenopathy Cervical, Anemia, Bruise, Nosebleed, Hematoma
Metabolic & Nutritional Symptoms. Arthralgia, Arthritis, Bilirubin Increased, Back Discomfort, Decreased Weight, Gout, Hepatic Enzymes Increased, Hypercholesterolemia, Hyperglycemia, Increased Weight, Jaw Pain, Jaw Stiffness, Muscle Weakness, Joint Stiffness, Muscle Cramp, Muscle Stiffness, Myalgia, Thirst
Nervous System Symptoms. Carpal Tunnel Syndrome, Coordination Abnormal, Dizziness, Disequilibrium, Faintness, Headache, Hyperreflexia, Light-Headed Feeling, Migraine, Muscle Contractions Involuntary, Muscular Tone Increased, Paresthesia, Restless Legs, Shaking, Sluggishness, Tics, Tremor, Twitching, Vertigo
Mental and Emotional Changes. Aggravated Nervousness, Agitation, Amnesia, Anxiety Attack, Apathy, Appetite Decreased, Appetite Increased, Auditory Hallucination, Bruxism, Carbohydrate Craving, Concentration Impaired, Confusion, Crying (Abnormal), Depersonalization, Depression, Disorientation, Dreaming (Abnormal), Excitability, Feeling Unreal, Forgetfulness, Insomnia, Irritability, Jitteriness, Lethargy, Yawning, Libido Decreased, Panic Reaction, Restlessness Aggravated, Somnolence, Suicide Attempt, Suicidal Tendency, Tremulousness Nervous
Symptoms for Reproductive Female. Breast Neoplasm, Menorrhagia, Menstrual Cramps, Menstrual Disorder, Pelvic Inflammation, Premenstrual Syndrome, Spotting Between Menses
Respiratory System Symptoms. Asthma, Breath Shortness, Bronchitis, Coughing, Congestion, Laryngitis, Nasal Pneumonia Tracheitis, Rhinitis, Sinus Congestion, Sinus Headache, Sinusitis
Skeletal Symptoms. Neck/Shoulder Pain.
Skin and Appendages. Acne, Alopecia, Angioedema, Dermatitis, Dry Lips, Dry Skin, Epidermal Necrolysis, Eczema, Folliculitis, Furunculosis, Lipoma, Pruritus, Rash, Skin Nodule
Sensorial Symptoms. Conjunctivitis, Dry Eyes, Earache, Eye Infection, Eye Irritation, Metallic Taste, Pupils Dilated, Taste Alteration, Tinnitus, Vision Abnormal, Vision Blurred, Visual Disturbance
Urinary System Symptoms. Blood in Urine, Dysuria, Kidney Stone, Urinary Frequency, Urinary Tract Infection, Urinary Urgency
Urogenital Symptoms. Anorgasmia, Ejaculation Disorder, Menstrual Disorder
Violent or Physically Dangerous Side Effects. Acute Renal Failure, Grand Mal Seizure, Neuroleptic Malignant Syndrome, Pancreatitis, QT Prolongation, Rhabdomyolysis, Serotonin Syndrome, Thrombocytopenia, Torsades de Pointes
Another possible symptom of Prozac is the reoccurrence of depression. If you find yourself suffering from depression again, meet with your doctor again as another dosage may be needed.
How to Relieve Prozac Withdrawal Symptoms
In most people, symptoms of Prozac withdrawal improve without the need of any treatment. For those people who suffer from these symptoms, here are some relief methods they can try.
Consult Your Prescribing Doctor Before Quitting. If you want to quit Prozac, make sure you first talk to your doctor and understand the process so that you can avoid as many negative symptoms as possible.
Tell Others Your Situation. One of the biggest mistakes people make is keeping quiet about their symptoms. Don't be afraid to reach out for help if you need it.
Eat Serotonin-Boosting Foods. Prozac is used to treat anxiety/depression by increasing the amount of serotonin in your brain. Serotonin is a mood-regulating drug that has a calming effect. If you're suffering from Prozac withdrawals you can try eating more foods that are high in serotonin so you can almost get the same benefits (but probably not in the same quantity). Foods that help you maintain the optimum serotonin levels include spinach, lentils and whole grains. Foods that help release serotonin include carbohydrates like oatmeal and foods with amino acid L-tryptophan like turkey. Last but not least, foods that help your brain receive the serotonin better are foods that are high in monounsaturated fat like avocados.
Try Depression- resisting Foods. Another easy method to reduce the symptoms of Prozac Withdrawal is by eating foods that increase your energy levels and fight off depression. Foods that are rich in magnesium like almonds and spinach can help you fight stress and anxiety. Other depression fighting foods include: bananas, milk and other dairy products and mushrooms.
Keep an Exercise Routine. Exercising helps significantly. Not only is regular exercise recommended for many major health benefits, but it can help ease Prozac withdrawal by treating stress and tension. Set aside some time for exercise and relaxation every day.
Avoid Caffeine, Alcohol, Sugary Foods And Drinks. When you're trying to reduce Prozac withdrawal symptoms you should definitely limit the amount of foods you eat that can affect your mood. While caffeine and alcohol help lift your mood for a short while, they have bad side effects to your anxiety/stress and depression levels, not to mention both encourage insomnia. See below for the types of food you can eat to help reduce your symptoms.
Change Your Dietary Habit. Changing your dietary habits can have a big effect on your level of depression. Research shows that individuals who eat large meals are more likely to suffer from depression and exhaustion. On the other hand, individuals who eat several, smaller and healthier meals throughout the day are more likely to have higher energy levels throughout the day.
Use Herbs. Some herbs can also ease withdrawal symptoms, such as ginseng, polygala, citrus, and fu-shen. These herbs help by boosting blood flow and also soothing your nerves, which are two of the most common withdrawal symptoms reported.