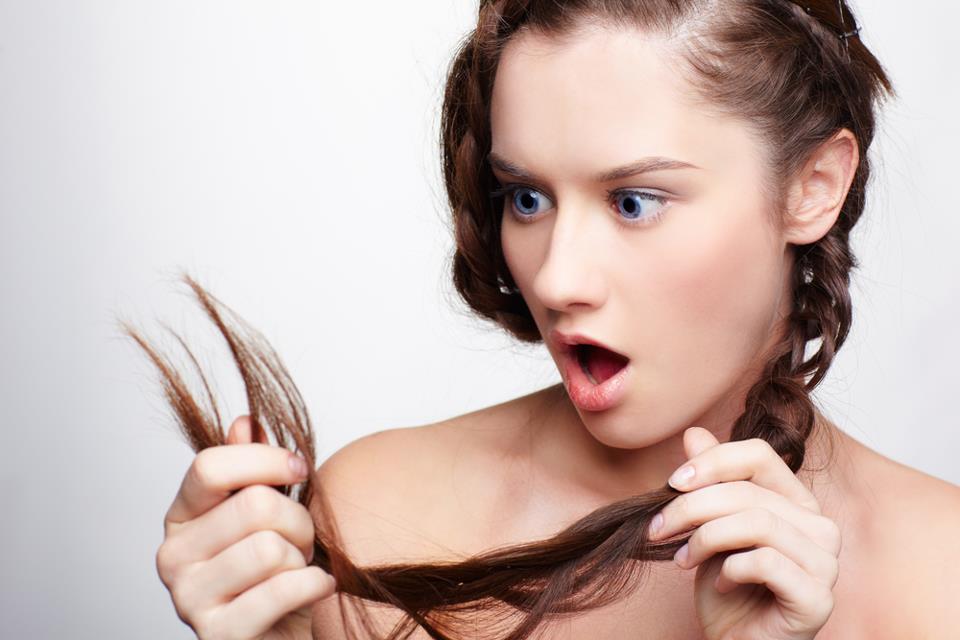 When you have split ends, it means that your hair doesn't have enough moisture and nourishment. Many factors, such as sun exposure, harsh shampoos, blow drying, dyes, bleaches, and straightening work together to dry out your hair while damaging its amino acids. When your hair is dry, it will easily break during the styling process, creating split ends. Luckily, you can find simple yet effective home remedies for split ends. Each of the following solutions to how to control split ends can make a significant difference in your hair.
Home Remedies for Split Ends
Here are 12 simple, effective home remedies for split ends for you:
1. Egg Mask with Certain Oils
Eggs are rich sources of essential fatty acids and protein, both of which help treat your split ends. The protein in the eggs strengthens hair follicles and works to smooth the hair, enhance resistance against breakage and reduce tangles. Brush out your hair and use an egg hair mask weekly.
Take an egg yolk, whisking it into 2 to 3 tablespoons olive oil,andadd a tablespoon honey to the mixture. Work this in damp hair and rinse it off after 30 minutes before shampooing. Another option is to whisk an egg into a teaspoon almond oil. This is also applied to damp hair, but left on for 20 or 30 minutes before shampooing.
2. Deep Conditioning with Avocado
Avocado is one of the top home remedies for split ends as it can give your hair deep conditions. It contains nutrients such as vitamins A, E and D as well as magnesium, folic acid, essential fatty acids and protein, all of which stimulate hair growth and nourish hair.
Mash a ripe avocado and then mix it with 2 tablespoons olive oil and 2 tablespoons coconut oil to get a creamy consistency. Liberally apply the mask to your hair but not the roots. After 30 minutes (minimum), rinse it and then shampoo the hair. Do this 2 to 4 times a month.
3. Mayonnaise
Mayonnaise is another home remedies for split ends and other types of damage. It prevents split ends, nourishes the hair, and makes your hair soft and shiny.
Wet your hair, and then towel dry. Work a half cup mayo into the hair and leave it for a minimum of 15 or 20 minutes. Rinse it and then shampoo your hair, repeating 1 to 2 times a week. Keep in mind that your hair may smell afterwards.
4. Beer
Beer works to fight split ends by supplying your damaged hair follicles with sugar and protein. It is also a great conditioner, adding volume and shine to hair.
Start by shampooing your hair. Now put flat beer into a spray bottle so you can easily spray it onto your damp hair, specifically the end and midsections. You don't need to rinse it off. Expect the smell to fade as your hair dries.
5. Papaya & Yogurt
As many of the home remedies for split ends contain protein, papaya is a good choice. This protein reduces split ends and nourishes your hair. As a bonus, it restores natural softness and shine of the hair.
Peel and deseed half a papaya, and then blend it with a half cup plain yogurt to create a smooth mixture. Put it on your hair, leaving it on about a half hour. Rinse the mixture out and shampoo your hair. Do this 2 to 4 times monthly for several months.
6. Honey Water
Honey attracts moisture and contains many nutrients, making it very useful for repairing damaged and dry hair that is prone to breakage and splitting. It is also a natural moisturizer and conditioner for your hair, increasing the shine and softness.
Combine 2 tablespoons honey with 4 cups warm water. Shampoo your hair and use this mixture like a rinse. After a few minutes, rinse it off, repeating weekly.
7. Milk & Whole Milk
Combining milk with cream gives you one of the home remedies for split ends which works by providing moisture. Because of this function, it also makes your hair suppler and smoother. As a bonus, the milk proteins encourage tissue repair and growth.
Mix a tablespoon of cream in a half cup whole milk. Rinse your hair using the mixture. Leave it on for 15 or 20 minutes before rinsing it out and shampooing your hair. Repeat weekly for several months.
8. Aloe Vera & Lemon Juice
Aloe vera works to moisturize damaged and dry hair, which is typically prone to developing split ends. It can also prevent hair loss and promote hair growth.
All you have to do is massage some aloe vera gel on your hair. Leave it for 30 minutes before shampooing your hair. To improve the results, mix the aloe vera with 2 teaspoons jojoba, olive, or castor oil and a tablespoon lemon juice. Repeat 2 times per week for several months.
You can also look for a natural shampoo containing aloe vera and use it 2 to 3 times each week.
9. Select a Wide-Tooth Comb
After applying conditioner, use a wide-tooth comb to remove tangles. This limits the amount of breakage that occurs if you brush out hair after towel drying it.
10. Take Care with Heat Tools
Inexpensive hot styling tools will frequently overheat, eventually burning your ends so they split. The ideal would be to pick a top-rated economical or professional brand when buying styling tools.
11. Control Damaging Services
Damaging hair services, such as perms, straightening, highlights, and dyes will all lead to hair trauma and possible split ends. To reduce this, limit treatments to just one item if possible and don't wash your hair for a full 48 hours after, as it is most prone to breakage at this point.
12. Regularly Cut Your Hair
Haircuts will eliminate split ends and regular trims prevent them. Waiting to trim your hair can lead to split ends traveling up the hair shaft, making them worse. Instead, aim to cut your hair every 6 or 8 weeks.